TRF's BIG APPLE DERBY PARTY RAFFLE
Winners need not be present to win!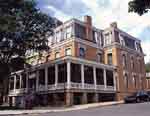 Grand Prize
"SARATOGA GETAWAY" includes:
● 3-day, 2-night stay, July 22nd to 24th, 2018, for two at the Saratoga Arms, an award-winning concierge hotel located in the heart of downtown Saratoga Springs
● Roundtrip rail fare for two on Amtrak from NYC to Saratoga Springs
● Clubhouse reserved seats at Saratoga Race Course for Sunday and Monday
● Ragozin Sheets for Saratoga races
● Gift certificate for a dinner-for-two at a local restaurant in downtown Saratoga Springs
● Two complimentary tickets for the TRF's 6th Annual "Hay, Oats, and Spaghetti" fundraising dinner on Monday evening July 24th at the Saratoga Automobile Museum in Saratoga Spa State Park
● Two Day Car Rental
● $50 betting voucher
OTHER PRIZES
* $200 Tiffany's Gift Certificate
* $100 Macy's Gift Certificate
* $100 Crate and Barrel Gift Certificate
* $100 Barnes and Noble Gift Certificate
* A set of silver-plated mint julep cups
We are continuing to receive additional donations for raffle prizes.
Please come back and visit this site for up-to-date information.
Rules:
$2 per ticket; 12 tickets for $20. Winners need not be present to win. Drawing will be held at the Big Apple Derby Party after the running of the Kentucky Derby. If mailing in payment for tickets, be sure to complete the appropriate information on the entry form enclosed. We must receive your completed form and payment no later than Thursday, May 3rd, 2018. You can also call (212)744-4297 or fax your form to (212)744-3713 with valid credit card information by 12 noon EDT Thursday, May 3rd, 2018. Tickets can also be purchased (cash only) at the party. If you are not present but wish a complete list of prize winners, please send us a stamped self-addressed envelope.
If you are purchasing tickets by mail, phone, or fax, we will send you a receipt with your ticket numbers.
TO DOWNLOAD PAYMENT FORM (Reply Sheet):
Click here to download in Microsoft Word format